Canada Place Vancouver Cruise Ship Web Camera
RETURNING SOON
The CANADA PLACE – VANCOUVER to ALASKA CRUISE SHIP CAM is located in North Vancouver (on Vancouver's North Shore) and points towards downtown Vancouver to show visitors a fabulous view of the Vancouver Convention Centre and Canada Place (home to many of the summer's Alaska cruise ships). This live camera was first installed back in the summer of 1999 when these sites were just first designed and has remained online every day since then.
In the early morning hours, you can see the cruise ships dock here. Then, later in the early evenings, watch the cruise ships as they push back into the harbour (disappearing momentarily on the left side of your screen) and then set sail for Alaska (traveling from left to right across your screen). Depending on the time of day, and amount of sunlight, images of the Vancouver cruise ships may appear faded. Early morning and early evening are the best times to view Canada Place and the cruise ships. Don't forget to check the cruise ship schedule included below. Please check back often for updates.
Cruise ship season runs from May until October. Check out the included schedule of arrivals and departures to find the ship of your choice. Viewers will also see freighters anchored in the harbour, pleasure yachts, tugboats and our very own "seabus" as it travels back and forth every 15 minutes bringing commuters home from the downtown core. In fact, if you are a cruise ship passenger and have some extra time before you board ship, you may want to get aboard the "seabus" (it's public transit operated, like the bus), very inexpensive, very safe and docks right next to your ship. So come on over for a visit and take a mini-cruise to our side of the water. You'll dock at Lonsdale Quay market where a wealth of boutique shops, restaurants, entertainment and marketplace vendors will be pleased to greet you. The 15 minute trip is well worth it, we promise.
– – – –   – – – –
Cruise Ship Schedule Live Cam Vancouver – Alaska Cruise Ship / Canada Place Schedule
Follow our cruise ship calendar and twitter feed for daily updates of all cruise ships. Check here for all of the Vancouver / Alaska cruise ship departures and arrivals from Canada Place. All times are approximate and subject to change without notice. (CP) – Canada Place Pier (which can be seen live on camera). (B) = Ballatyne Pier (which can NOT be seen on camera but ships will pass through the frame as they sail in/out). Click on calendar to enlarge.
Alaska Cruise Ship Schedule from Vancouver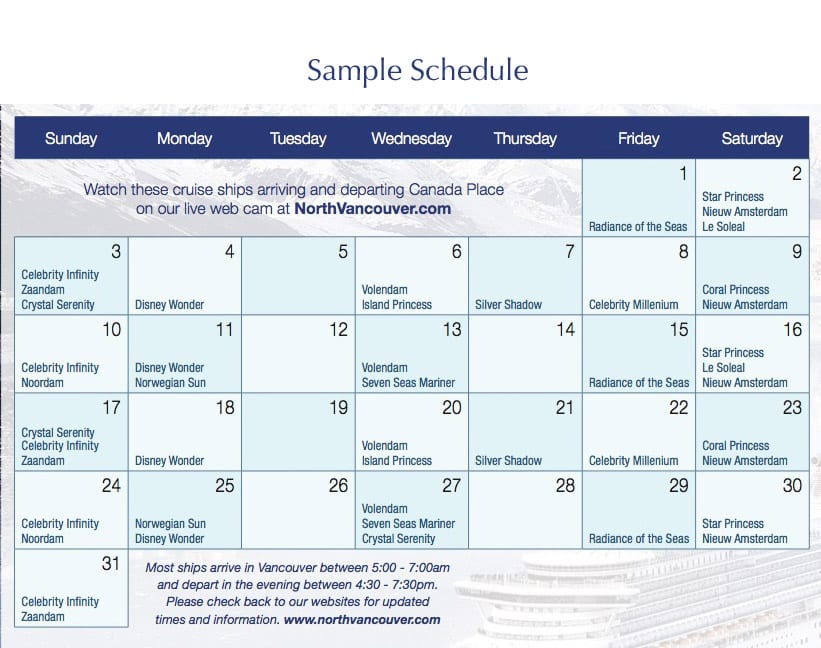 From North Vancouver to Alaska – CRUISE SHIP SCHEDULE. A big thanks to our sponsors who help make this Alaska Cruise Ship web camera possible.
Join Vancouver Events Girl Catherine Barr for all the city's most glamorous charity events, photos and videos.