North Vancouver's neglected Marine Drive corridor has got a new attitude, and thanks to land developers Qualex-Landmark and their new "District Crossing" development, hanging in this hood is starting to feel good.
For the first time in years, since the North Shore Auto Mall encouraged the departure of many of Marine Drive's car lot anchor tenants, this North Vancouver main street has been in dire need of updating. But the once abandoned concrete parking lots and dilapidated old sales centres are now seeing a lot of action.
New condos, new businesses and a new approach to North Van District commercial/residential zoning means that brand new neighbourhoods are now cropping up with an outlook of attracting the young, hip and upwardly mobile.
Leading the way is Qualex-Landmark's almost completed District Crossing development. Located adjacent to the intersection of Marine and Lloyd, and scheduled for completion this summer, the project is being touted as "a walkable, livable community". And one look inside these chic condo homes tells you that this is not your grandma's housing complex.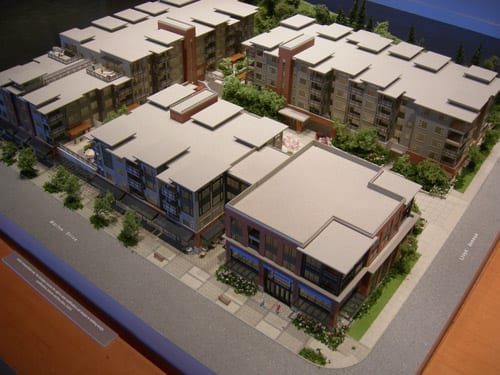 Full of bright light, modern technologies and luxury touches, the show suites here literally sell themselves. A clever use of space, generous patio layouts and an obvious attention to detail also tempts buyers with more than a hint of the good life.
Units range in size from 600 – 850 sq. ft. and start at $309,900 in price. Good news here is this also includes one parking stall and the mandatory HST tax. Maintenance fees are expected to range from $143 – $280 per month.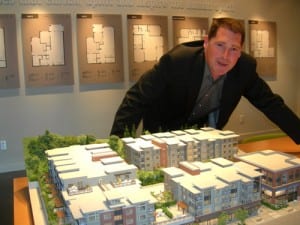 Chris Colbeck, who also happens to be a North Vancouver native himself, is Qualex-Landmark's vice president of sales and marketing. As he takes us on a mini-tour of the project, it's clear to see that not only is he proud of his product, but of his hometown neighbourhood as well.
"I used to work just down the street here as a kid," he says as we stroll out onto the show suite's spacious balcony.
With over three-quarters of the 129 constructed units already sold, the project has been exciting from the start, Colbeck explains.
"And it's the little touches that just help make it all happen," he says.
For example, each kitchen is already a gourmet chef's dream complete with Whirpool electric ranges, Fisher & Paykel energy smart refrigerators, quartz counter tops and Kohler high spout faucets.
Bathrooms here too have been given equal consideration with soaker tubs, oversized mirrors and frameless glass shower enclosures with rain shower heads and a thoughtfully added shelf alcove for soaps, lotions and more.
Multifunctioning media ports, which include connections for telephone, data and cable via Telus's fiber optic backbone are already built in, which means techies won't find themselves confounded by cables strung everywhere. And a keyless (FOB) access system in the common areas, garages and elevators adds convenience and a touch of elegance with ease.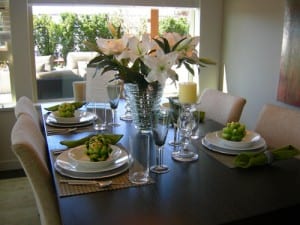 Colbeck's hard work here has undoubtedly helped with the rapid sales. Still, he gives most of the credit for the current success of District Crossing to his company's leaders; Roger Navabi, president, and Mohammed Esfahani managing director.
With several prestigious projects to their name, including Symphony at Whistler, Eighteen Trees in Burnaby, Stella and Nova in Calgary and Domus and Pomaria in Vancouver, there's no lack of shared experience.
Add in the contributions by Marcon Construction, Raymond Letkeman Architects and interior design by Evoke International and it appears that this group has indeed hit upon a winning combination.
And while everyone agrees that it isn't easy being green, District Crossing is eager to show off its colours. Each unit has Energy Star programmable thermostats, Low "E" double glazed windows and individual hot water metering systems. Also, during construction, careful attention has been given to the use of environmentally conscious building materials and "strategic use" of recycled materials.
Clearly, with over 200+ stores and services within mere steps of the front doors, District Crossing is more than smart to play up the "livability" and "walkability" themes. But as much as strategy plays a part in any successful sales mantra, one simply can't ignore that living here is highly desirable on many fronts.
Not only is this project among the first to arrive on the new Marine Drive scene, but it is setting itself apart as the leader by redefining what it means to have a new lifestyle and a fashionable future in one of this city's most desirable location, location, locations.
– Cat Barr (Editor, NorthVancouver.com)
District Crossing – http://districtcrossing.com/