The Zajac Ranch for Children is proud to be a part of The Stars Step Out Variety Show & Auction on December 5th, 2010 . Join us for a sparkling evening of entertainment, featuring acts ranging from an Afro drum ensemble and tap dance group to Jane Mortifee and the Legendary Mr. Rock 'n Roll himself, Red Robinson as emcee.
*** CLICK HERE TO WIN TWO TICKETS TO SUNDAY'S SHOW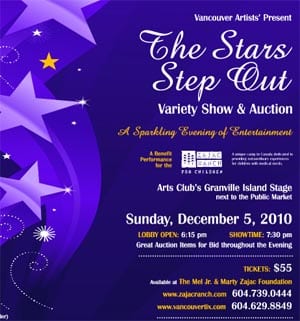 Purchase tickets for yourself, invite your friends and family, or gift tickets to your employees and contacts!
Tickets are $55 (including HST) and available at http://www.vancouvertix.com, or through the The Zajac Office at 604-739-0444.
With your contribution, we can help give 500 children a life-changing camp experience. With your ticket, you will see dozens of incredible acts… all in one night!
Late Addition: Leon Bibb Performance and Tribute!
Afro Jazz Drum & Dance Ensemble: Candus Churchill, Andrea Curtis, Thelma Gibson, Maree Ferguson , Beverley Munro & Shirley Ras. Thelma Gibson, recipient of The Woman of Distinction Award, presents a vibrating Drum performance with her talented group of musicians.
Ali Milner: The 19-year-old from Canada is making her mark on the indie/jazz charts delivering pure sound and amazing vocal depth, with a modern edge for a classic genre that has beendescribed as shades of Sam Cooke and Nora Jones rolled into one.
Andy Thoma: Andy Thoma's career as a singer spans many years and it has taken him to Europe, The Middle East and the United States, as well as Vancouver and throughout B.C. He says he is very happy to be here, singing on behalf of the children.
Blu Mankuma: Well-known singer, actor, composer, and producer Blu Mankuma will surely have your feet moving to the soulful beat of his original music.
Brian Newcombe: One of Canada's top session bassists who has won several awards and has played with such artists as Ray Charles, Boz Scaggs, Brian Adams, Paul Anka, Oleta Adams, and more. http://www.myspace.com/briannewcombe
Candus Churchill: Candus arrived in Vancouver in 1980 with rock funk group Dragon Fly. She has performed across Canada , the U.S. and parts of Japan with groups as opening act for The Temptations, B.B. King, Lou Rawls, Michael Bolton, Bobby Bland, Candi Staton, Graham Central Station, and more. She is also a founding member of The Gospel Experience which she has helped maintain for 20 years."Churchill can belt with the best!"
Chris "The Wrist" Nordquist: This accomplished international drummer who is regarded by his peers as one of the best around has performed with countless blues legends from Big Mama Thornton to Pine Top Perkins, and was featured on Colin Jame's juno award winning album "Naitonal Steel".
Crystal Cote: Crystal 's powerful and soulful voice (think Alicia Keys and Joss Stone, but totally unique) has won her accolades, including recognition as the Best of BC artist by Virgin Radio Vancouver 95.3 for October, 2010. http://www.crystalcote.ca/
Dave Say: One of Vancouver 's finest sax and flute players who John Doheny said "plays so many different kinds of gigs: funk, blues, pop, etc. I think his playing acquires more depth and nuance from those influences, in the manner of the classic "old school" tenors, and it just knocks me out".
Deborah Williams: Deborah is an insightful writer/performer/director and hilarious star of the international comedy hit "Mum's the Word". http://www.mumsthewordtour.co.uk
Doug Cameron: is one of the true innovators of the contemporary and electric violin and a virtuoso of the musical saw who often plays in utterly fantastic costumes. www.dougcameron.com
Ed Henderson: a music director, producer , performer, and expert guitarist who has played with some of the best bands in the business including (Chilliwack, Tangissimo, The Vancouver Chamber Choir, Ann Mortifee, The Vancouver Symphony) and composes choral music, documentary film scores, theatrical scores and much more… http://www.edhendersonmusic.com
Jane Mortifee: A well-known star of stage, screen, and television who has a successful solo career and extensive studio work as a background singer on the Tom Jones, Paul Anka, and Rolf Harris TV Series along with many others. http://www.janemortifee.com
Joani Bye: As one of Vancouver's top studio singers, Joani's powerful voice has been heard on albums by some of the music industry's most popular artists such as Cher, David Bowie, INXS, and Jon Bon Jovi — to name a few — as well as on countless commercial jingles.
Kenny "BLUES BOSS" Wayne: International blues & boogie woogie Hall of Fame piano player and 2006 Juno winner. http://www.kennybluesboss.com
Leora Cashe: this world-class inspirational jazz entertainer, singer, and songwriter penetrates the audience with her velvet and loveable voice. www.leoracashe.com
Linda Kidder: Linda's passion for for singing and song writing are evident and her credits include Rita MacNeil, Gary Fjellgaard, Bon Jovi, Susan Crowe, Connie Kaldor and Norman Foote to name a few. http://www.lindakidder.com
Nadine States: A strong singer of soul, jazz and gospel music that is entertaining for all ears.
Olaf de Shield: An internationally recognized guitarist, vocalist, and arranger who does it all from soul to jazz to pop. http://www.olafdeshield.biz
The Gospel Experience: Vancouver 's finest gospel singers light the room in a passionate blend of incredible songs and divine inspiration. http://www.thegospelxperience.com
Tom Arnitzen: A multi-talented, well-known Vancouver musical director, pianist, and bandleader. http://www.tomarntzen.com
Sibel Thrasher: Internationally known as a singer, actress, and honoree by B.C. Entertainment Hall of Fame and Vancouver 's "Starwalk" Theatre Row for her contribution to community and music. http://www.myspace.com/sibelthrasher
Symone: One of Vancouver's premier gender illusionists. A past Entertainer of the Year who's dinner show "Dressing on the Side" sold out for five years!
The Hot Mamas: Georgina Arntzen, Julie Brown, Melanie Paul, and Mary Ella Young blend tight harmonies to create a musical mood reminiscent of the Boswell Sisters (20s), The Andrew Sisters (40s), The McGuire Sisters (50s), and more!
Voni Grindler: Director of The Stars Step Out Variety Show & Auction, who has a long list of productions to her credit as a director & producer, continues to do what she loves – directing shows that bring the worlds of music and theatre together – this time, very proudly, for Zajac Ranch for Children.