Vancouver's a busy place for JUSTJUNK®'s Mike Jijian and with just one year under his belt in the junk removal industry, it's just getting busier and busier! Servicing an area including North, West and Downtown Vancouver, plus over to Coquitlam, Richmond and Burnaby, has been a feat for Mike. His enthusiasm has driven him to success in just the short amount of time. Repeat customers prove that.
"JUSTJUNK® is proud to provide both residential and commercial junk removal jobs on the North Shore and work extensively in the area on a year round basis" says Mike.
After graduating from the University of Manitoba with a degree in Criminology, Mike left Winnipeg and moved to Vancouver in 1994. Mike then received a technology diploma in Business Administration from the British Columbia Institute of Technology in 1997. Immediately after BCIT, Mike joined Imperial Parking as an Area Manager and spent nearly 10 years moving up the ranks and participated in the Event Parking specialist program opening up parking facilities for stadiums and Arena's across Canada and the US. Mike left Impark in 2006 when he was recruited to be the General Manager of Central Parking's Vancouver Operation where he stayed until 2010.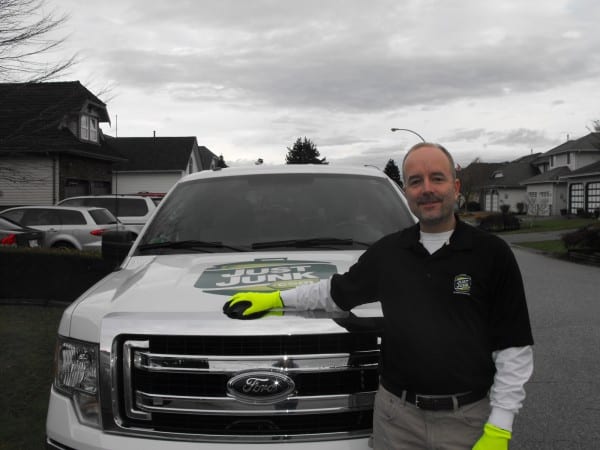 Looking for a change, Mike discovered Just Junk and knew immediately that this was exactly the industry and company that he was looking for. Mike purchased the Vancouver franchise with a territory of over 1.4 million people in eleven Municipalities and began operation in early 2012. "The Just Junk Franchise team was fantastic to work with and helped us to begin operations in early 2012. As with many franchisee's, I went from white collar to blue collar and have been happier than I ever was in the corporate world!" Mike has spent the majority of his first year working "in the truck" and training some very dedicated and talented employees. As a bonus, Mike's son Brendon works as a Navigator and is taking on more and more responsibility every day.
With just over a year in the junk removal business, seeing everything from home and garage cleanouts, hot-tub removals and plenty of downtown office clean outs, Mike is pleased to see JUSTJUNK® as a service provider for any type of situation. Mike now only spends a 2-3 days per week in the truck and dedicates the rest of his time to business development and administration. With service routes running from Vancouver (including Richmond and the North Shore) to the eastern border of Port Coquitlam, JUSTJUNK® is adding even more trucks in late 2013 or early 2014.