Do you love lobster?
Well then it's that time of year again in Vancouver when Earls Kitchen + Bar flies in 15,000 live Nova Scotia lobsters for this 11th annual three day Lobster feast.
This crustacean celebration sells out fast so you'll want to book your table quickly. And don't worry about being greedy – this is all about satisfying your 'shellfish' demands.
Join Earls for a celebration of all things East Coast – and the 218th birthday of Alexander Keith – with a whole steamed 1½ pound Atlantic lobster served up with succulent prawns, corn cob, fingerling potatoes, grilled lemon and drawn chardonnay butter for dipping all for just $25 or add an ice cold pint of Alexander Keith Hop Series Ale for another $5.
Get them while you can, limited time and quantities. Please call ahead to your local Earls, reservations available in select locations.
Lobster Fest runs October 3, 4, and 5th in Vancouver. Call the North Vancouver Earls at 604-984-4341 or click Earls.ca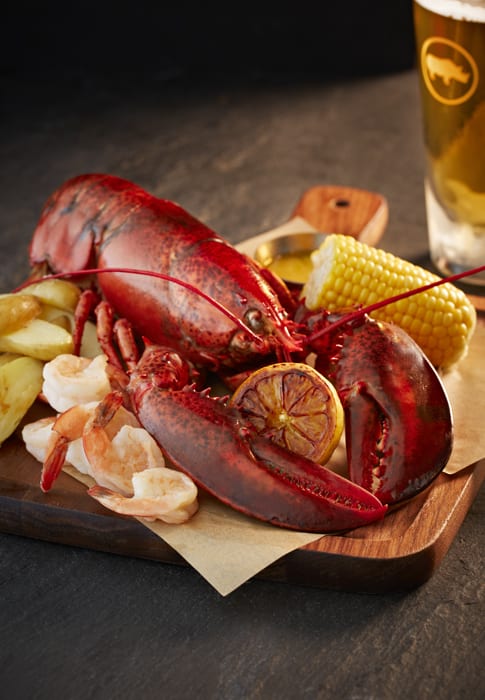 REVIEW:
Last night we were treated to a spectacular Lobster feast at Earls' flagship North Vancouver location.
I really like sitting in their bar/lounge area at this particular Earls as it is homey and comfortable and is generally also a great place to people watch.
Needless to say, people were soon watching us as a bottle of perfectly chilled Villa Maria Sauvignon Blanc wine arrived (a fave) accompanied by two delicious Atlantic lobsters complete with a side of juicy prawns, fingerling potatoes, corn cob and more. And I need to meet the person who invented that Chardonnay garlic dipping butter – amazing!
The lobster and prawns were cooked perfectly. And as is the case with most things at Earls, the company has thought through all of the details including providing special buckets for the shells and all the tools needed to operate. I actually really liked that part. They didn't just say "hey, let's serve some lobster"; they said "hey, let's serve some lobster right"!
Now anyone who has eaten whole lobster knows that it can be a chore, but even here Earls excels by making it fun. Even the embarrassing but necessary lobster bib is emblazoned with a trademark "Earl-ism" which is characteristic throughout most of their marketing.
It was a great night and I thoroughly enjoyed every minute, which also included me stealing a bite of my husband's perfect pumpkin pie at dessert. Thank you Earls!
By Catherine Barr / Editor